At Agrotecnio we put the scientific advances of our researchers at the service of society. For this reason, we regularly communicate our new developments in the areas of agriculture, animal sciences and food technologies.
We are open to collaborate with the media, public and private entities, companies and industries to maximize the dissemination and impact of our projects.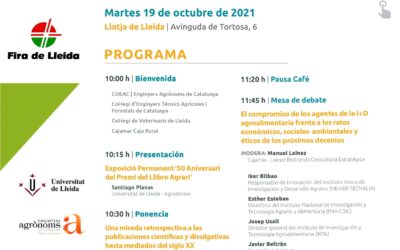 La Fundació Centre de Recerca en Agrotecnologia-Agrotecnio participará en el encuentro '100 Años de Agricultura y Alimentación' organizado por la Plataforma Tierra y Fira de Lleida para el próximo martes 19 de octubre a las 10.00 horas. Este webinar gratuito,...
read more