The Fundació Centre de Recerca en Agrotecnologia-Agrotecnio received yesterday the visit of the minister of Agriculture, Livestock, Fisheries and Food of the Generalitat of Catalonia, Teresa Jordà, who knew first-hand the scientific projects carried out in this CERCA centre (Research Centres of Catalonia). The delegation of the institutional visit, composed also by the Catalan government delegate in Lleida, Ramon Farré; the general director of Food, Quality and Agro-food Industries, Carmel Mòdol; the deputy director for Food and Agricultural Transfer and Innovation, Jaume Sió; and the director of the Territorial Services in Lleida, Ferran de Noguera; visited the Agrotecnio laboratories and attended six seminars where researchers of the centre explained their projects within the framework of the three main areas of research that the University of Lleida (UdL) affiliated centre addresses: plants and environment, livestock and food technology.
The visit began at 12:00 pm and was received by Jordi Graell, director of the Campus of the Agrifood, Forestry and Veterinary (ETSEA) and Ignacio Romagosa, director of Agrotecnio. The main event took place in the ETSEA Assembly Hall, where took place six seminars on the activities of different Agrotecnio research groups. Firstly, Ignacio Romagosa explained in detail the activity of the centre, its scientific production and its task of knowledge transfer through research projects and international cooperation networks.
Romagosa stressed that "the purpose of the 15 research groups that make up the centre is to transfer results applicable to the agri-food sector and society in general". He also pointed out that the centre has 190 researchers from 19 different countries and that 30% of its funding comes from private funds from contracts with companies. The director ended his speech by highlighting the need to promote collaboration between the Department of Agriculture, Livestock, Fisheries and Food and Agrotecnio to strengthen their research and knowledge transfer work in the region.
After his speech, the Agrotecnio researchers began their presentations, showing their research activities to the Minister Jordà and the other political figures. The first seminar was held by Carlos Cantero, principal investigator (PI) of the Agronomy group. This was followed by the presentations of Joan Estany, PI of the Animal Breeding group; Maria Paz Romero, PI of the Food Bioactive Compounds group; José Luis Araus, PI of the Plant Phenomics group at the University of Barcelona (UB) and Agrotecnio; and Jonàs Oliva, senior researcher at the Joint Research Unit established between the Forestry Technology Centre of Catalonia (CTFC) and Agrotecnio.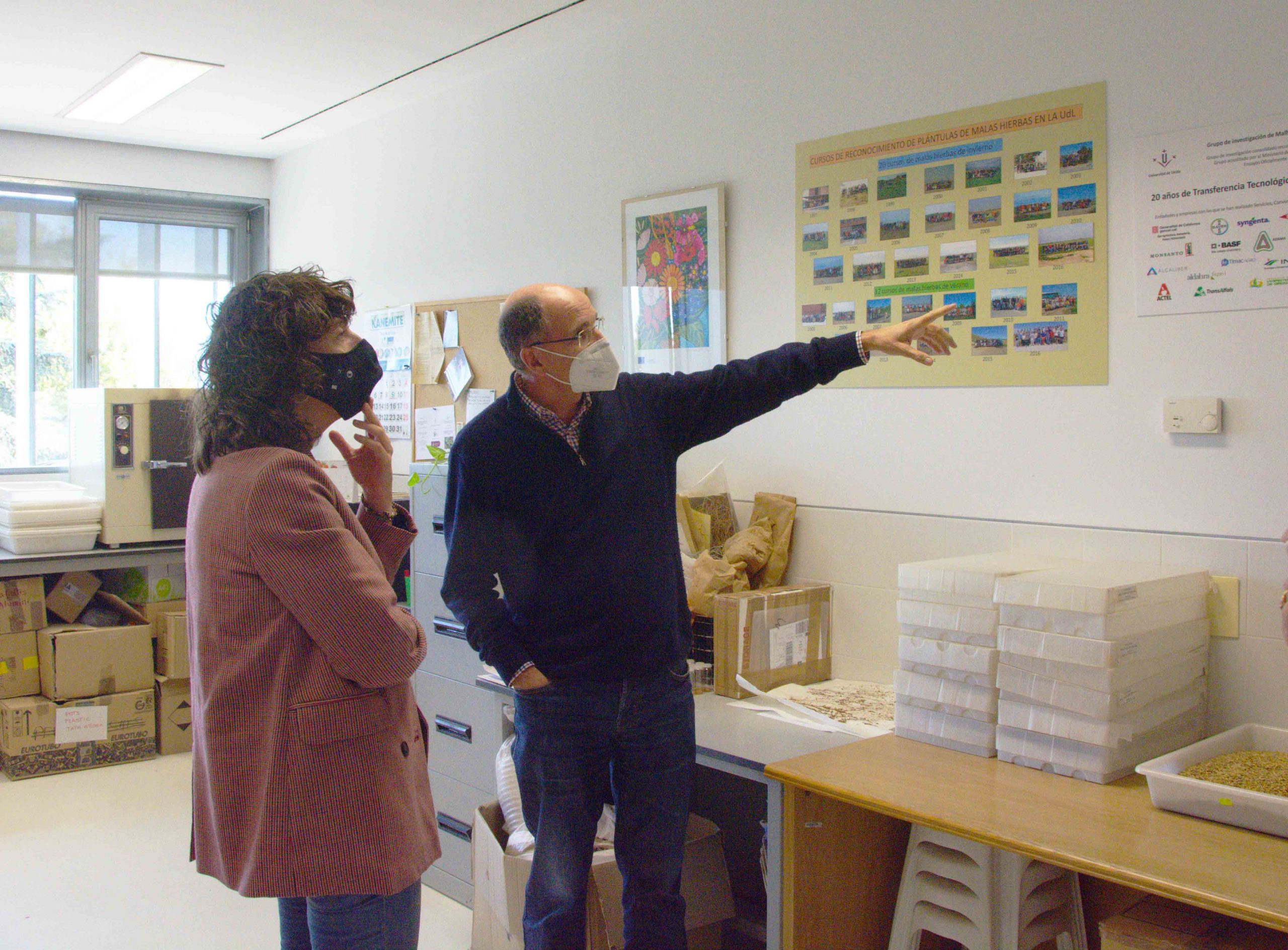 At the end of the presentations, the minister highlighted that "from Agrotecnio they have asked us to be by their side and we will do so, because research, knowledge transfer and innovation in the agri-food sector are necessary and Agrotecnio's research projects encompass the entire food chain, which is extremely important".
The institutional visit concluded with a tour of the centre's laboratories and facilities so that the researchers themselves could show the minister the progress of their projects.